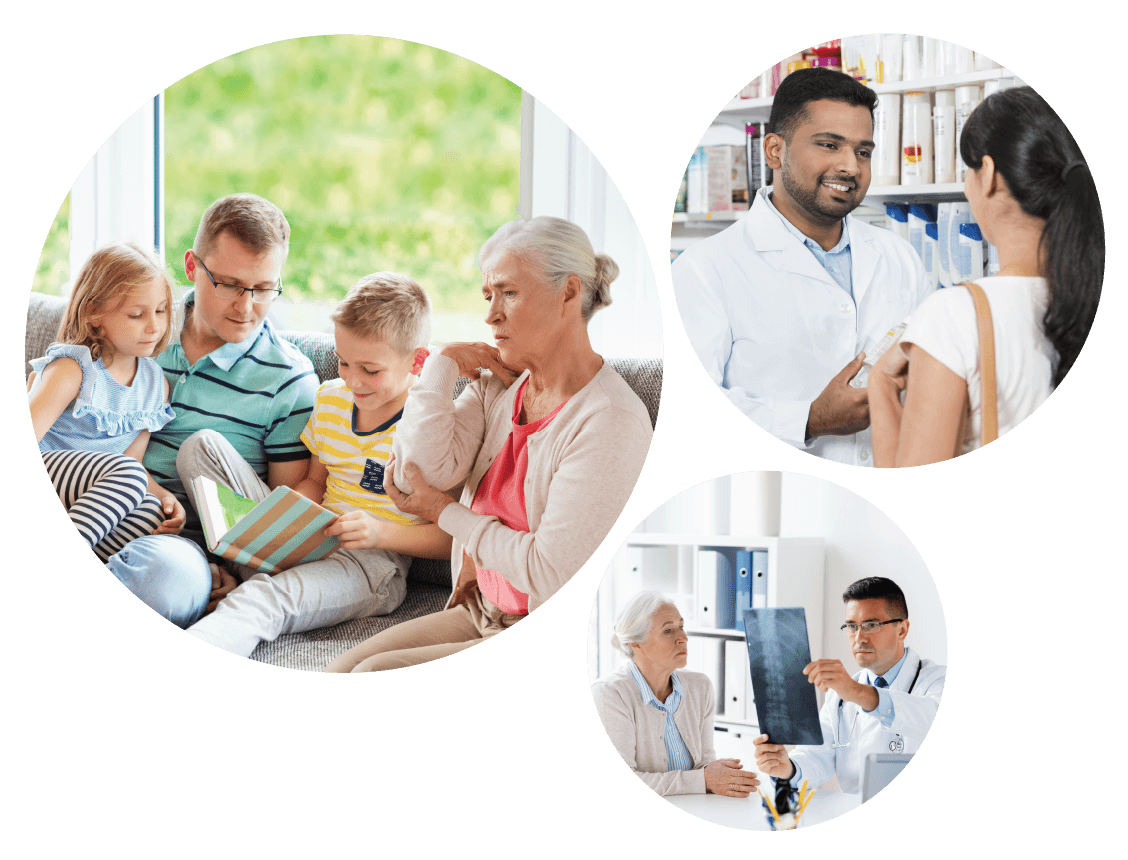 ASK YOUR PHARMACIST AND DOCTOR FOR HELP
Research shows that individuals who get detailed education about their GOUT and who have close follow up sessions with a medical professional can reduce the amount of GOUT attacks they suffer from.8
Your pharmacist can provide you with ongoing support and help you with any problems and concerns you may have regarding your treatment like how to use your medication correctly and adjust your medicine where necessary. Your pharmacist can also give you helpful information advice about your diet and lifestyle.8
It is important to ask your pharmacist, nurse or doctor for help. This website provides general information and cannot replace the specific information that can be given to you by a healthcare professional regarding your condition.
You have a specific medical history so it is essential to talk to your healthcare
professional about your personal risk factors and experience with GOUT.9,10
TIPS TO MAKE IT EASIER TO SPEAK TO YOUR DOCTOR10
Bring someone else with you. It helps to have another person hear what is said and think of questions to ask.

Write down a list of questions to ask so you don't forget and then write down the answers that your doctor gives you.

Make sure you understand what you are hearing. Ask for clarification, if necessary.

Don't be afraid to ask your questions or ask where you can find more information about what you are

discussing. You have a right to know.
QUESTIONS TO ASK YOUR DOCTOR
GOUT QUESTIONS10
What tests will you do to confirm if I have

GOUT

or not?

Could I be suffering from another joint disease?

What are the chances of me having another

GOUT attack

?
How can I avoid having another

GOUT attack

?
What long term complications can occur with

GOUT

?
If I keep my

GOUT

under control what are the chances that I can avoid long-term complications from the condition?
TREATMENT QUESTIONS10
How long will it take for me to feel an improvement once I start with my treatment?

Will I have to take medication to control my

GOUT

for the rest of my life?

What side effects can the medications you've prescribed have?

Will my

GOUT

medication interfere with any of the other medications that I am taking?

Do I have to keep taking my medication if I make lifestyle changes and the lifestyle changes work for me?
MANAGEMENT QUESTIONS10
What lifestyle changes can help to control my

GOUT?
Many people who take medications take them at the incorrect time of the day or in the incorrect amount, skip doses or stop taking their medication too soon.9
  to visit the Treatment page on this site for more information
  to visit the Lifestyle tips page on this site for more information